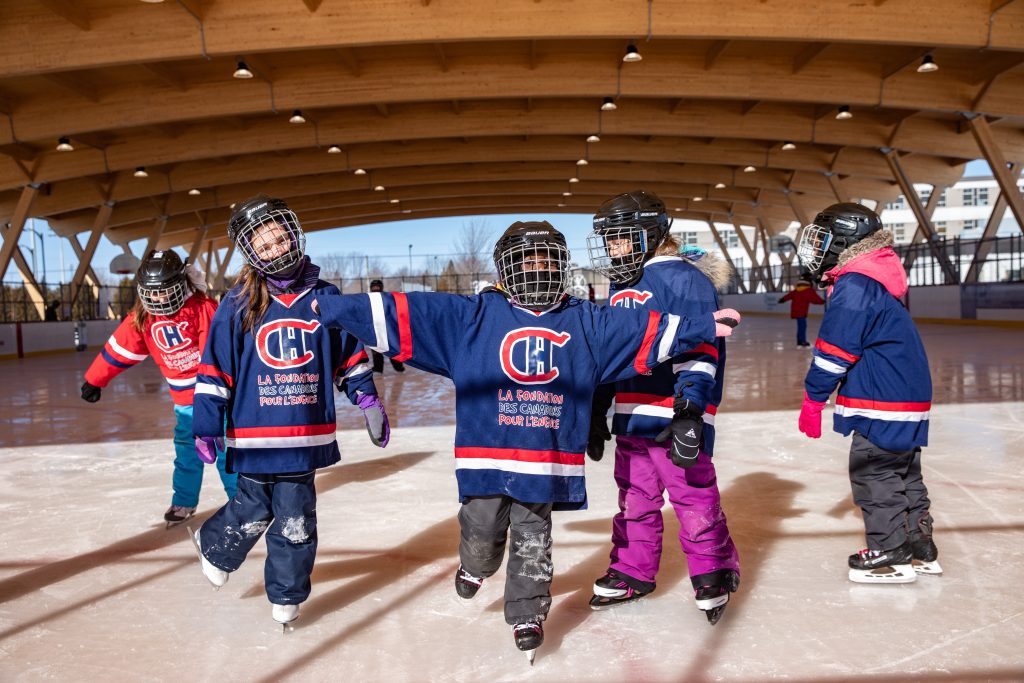 The Montreal Canadiens Children's Foundation is proud to announce that the fundraising activities of its #oneGOALtoASSIST RadioTéléDON presented on April 28 on 98,5 FM, RDS, Sportsnet and TSN Radio 690, have raised over $172,000 to encourage the adoption of a healthy and active lifestyle among underprivileged Quebec youth.
For the 12th consecutive year, the outstanding support from the team's broadcasters contributed not only to the fundraising efforts, but also helped bring to light the Montreal Canadiens family's commitment to the community, especially through the various initiatives piloted and supported by the Foundation across the province of Quebec throughout the pandemic. Due to the health measures in place, the organization had to adapt the format of its event by reducing its duration, pre-recording several segments, and by restructuring its call center. To meet these challenges, the Foundation was able to count on the participation and ingenuity of crucial partners, such as Bell, and on the voluntary involvement of Canadiens Alumni and their spouses, along with an array of collaborators who graciously donated their time and expertise for the cause.
"We are deeply touched by the generosity shown by Canadiens fans and members of the public, and by the continued support demonstrated by our partners, especially during this difficult time. Thanks to an unprecedented outpouring of solidarity, we were able to raise a record amount of funds for the Foundation during this year's RadioTéléDON. This amount will help us to pursue our mission with vulnerable children in Quebec over the next year," said Pierre Boivin, chairman of the Montreal Canadiens Children's Foundation's board of directors.
Fans wishing to contribute to this campaign have until 5:00 p.m. on Thursday, May 6, to make a donation at onegoaltoassist.com and receive their official pictures of Tyler Toffoli and Nick Suzuki.
$485,000 in donations to get Quebec youth active
Motivated by its desire to offer children from low-income families the same opportunities as other kids their age to grow up healthy, stay active, have fun and thrive, the Montreal Canadiens Children's Foundation is also announcing today donations of more than $485,000 to support 24 organizations working for the well-being of children in need across Quebec. The grants awarded to these organizations will, among other things, offer free summer camp stays and day camp registrations to socioeconomically disadvantaged youths or children living with special needs. Funds allocated will also serve to purchase various sports equipment, and offer access to various sports, leisure and outdoor activities for nearly 15,000 young people throughout Quebec, so that they enjoy a healthy and physically active lifestyle in the aftermath of COVID-19.
These donations come in addition to the investment of $1.9 million made earlier this year for the construction of the Foundation's 12th BLEU BLANC BOUGE refrigerated outdoor community rink located in Val-d'Or, in Abitibi-Témiscamingue. Over the past 12 months, the Foundation has also allocated $400,000 in the pursuit of its various community programs aimed at getting young people from disadvantaged neighborhoods moving, investing a total of nearly $2.8 million in Montreal and several Quebec communities since the start of the pandemic.
Grant recipients
Montréal
Ali et les prince*sse*s
Atelier 850
Camp Cosmos
Camp de jour CESAM
Champions for Life Foundation
Dawson Boys and Girls Club
École secondaire Dalbé-Viau
Fondation Jasmin Roy Sophie Desmarais
La Place des Enfants
Projet Harmonie
Trevor Williams Kids Foundation
Tyndale St-Georges Community Centre
Capitale-Nationale
Centre de plein air Lasallien
Centre-du-Québec
Centre Normand Léveillé
Maison des jeunes l'Express de Plessisville
Lanaudière
Maison des jeunes de l'Épiphanie
Maison des jeunes Place Jeunesse Berthier 
Laurentides
Maison des jeunes de Pointe-Calumet
Montérégie
Centre de plein air l'Estacade
École des Jeunes-Riverains
École Sacré-Cœur
Saguenay–Lac-Saint-Jean
Carrefour communautaire St-Paul
Fondation pour l'enfance et la jeunesse
La Corporation les Adolescents et la Vie de Quartier de Chicoutimi