Back to news
News
26 September 2023
The Foundation's 50/50 raffles return for the 2023-24 season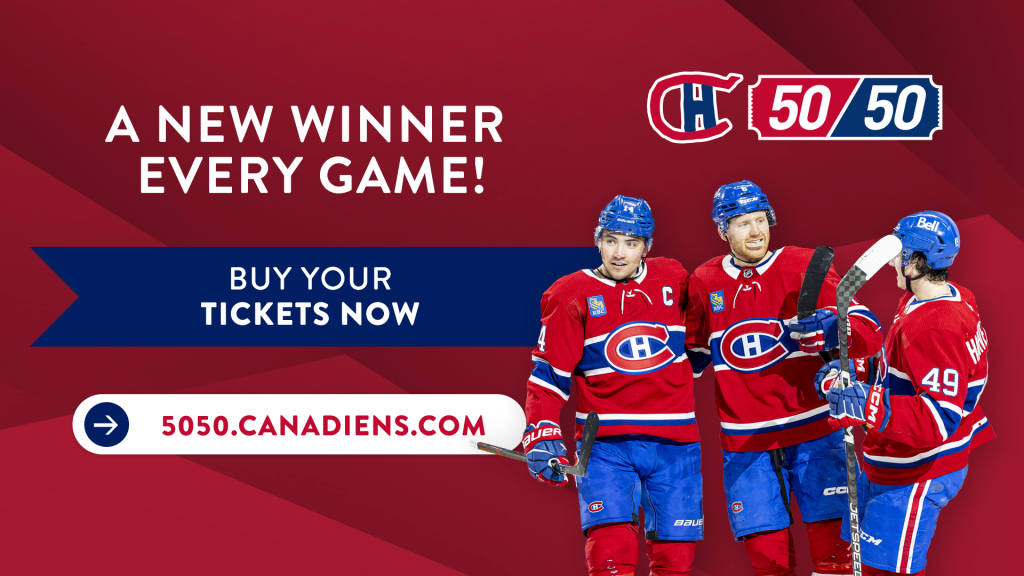 The Montreal Canadiens Children's Foundation announced on Monday the return of its 50/50 raffles for the 2023-24 season, in a new and improved format that will allow participants from across Quebec to win a variety of early bird prizes in addition to a chance at the famous jackpots. 
To kick off the upcoming season, the Foundation is introducing a brand-new mega raffle that will run throughout the entire preseason schedule, with early bird prizes up for grabs every game – home and away – until the home opener at the Bell Centre on Oct. 14. Rather than awarding a jackpot at each exhibition game, one grand cash prize will drawn from all sales made during this period following the home opener. 
As of Sept. 25, fans can purchase tickets online at 5050.canadiens.com, or from Foundation volunteers at the Bell Centre, to be eligible to win the early bird prizes during every game until Oct. 14. A total of seven early bird prizes will be up for grabs, including autographed memorabilia, exclusive merchandise, and four tickets to the regular season home opener against Chicago. All 50/50 tickets purchased before 10:00 p.m. every game night will be eligible for all remaining early bird prizes, as well as the grand prize jackpot on October 14. 
The 50/50 raffle's new format and early bird prizing will apply several other times during the regular season. Fans will now have until the end of every home game to purchase tickets to be eligible to win the 50/50 cash prize. The holder of the winning ticket will receive 50% of the jackpot, while the other half will go towards supporting the Montreal Canadiens Children's Foundation's BLEU BLANC BOUGE program. During road games, the Foundation will add more than 40 early bird prizes, ranging from gift cards and autographed items to personalized video messages from players and unforgettable experiences at the Bell Centre, which will be drawn throughout the season leading up to the next home game. Every raffle ticket purchased during a road game will be eligible for the next home game's cash jackpot. 
Motivated by their common goal to offer a healthier future to children from vulnerable backgrounds, the Foundation is renewing its partnership with Interac Corp, which will remain the official presenting partner of 50/50 raffles at the Bell Centre for a second consecutive season. The Foundation has also chosen to entrust once again BUMP, a division of Canadian Bank Note (CBN), to supply the technology required to hold these new large-scale electronic raffles, with unlimited jackpots, during the 2023-24 season. To participate in the Foundation's 50/50 Lottery from a smartphone, tablet or computer, fans must be 18 years of age or older and physically located within the province of Quebec at the time of purchase. 
 Non-profit organizations have been permitted to sell 50/50 raffle tickets online by the Régie des alcools, des courses et des jeux since Sept. 1, 2022, allowing the Foundation to maximize the amounts raised through this fan-favorite program, which remains one of its most important funding sources. Since 2015, hundreds of winners have received their share of jackpots totalling over $20.3 million, while the other half has gone towards achieving multiple initiatives, such as the construction and activation of BLEU BLANC BOUGE rinks in underprivileged neighborhoods, where thousands of young people can learn to skate and play ball hockey every year. 
 About the Montreal Canadiens Children's Foundation 
The Montreal Canadiens Children's Foundation is a non-profit organization that encourages physical activity and the adoption of a healthy lifestyle among underprivileged youth aged 4 to 17 years old. Since its inception in 2000, the Foundation has invested over $45 million in the community. The Foundation fulfills its mandate in two ways: first, through a unique flagship project – the BLEU BLANC BOUGE program – which consists of building and activating community refrigerated and multisport rinks; secondly, by providing financial support to more than 900 charitable endeavours, working for the well-being of the most vulnerable children across the province of Quebec, whose projects and programs enable children to adopt healthy lifestyles by being more active. For more information, visit foundation.canadiens.com.