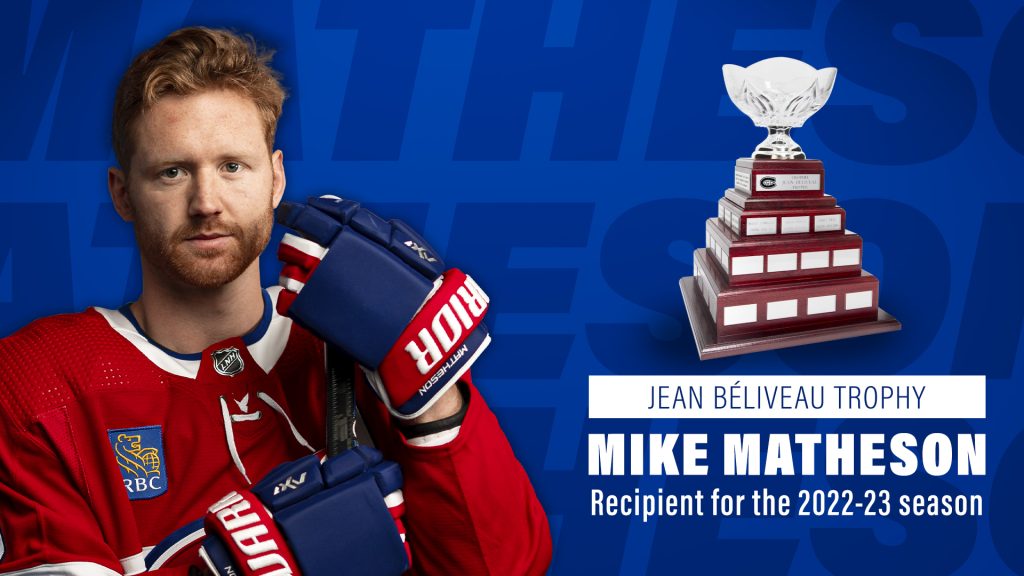 The Canadiens defenseman is being recognized for his community involvement and his dedication to empowering children to help develop their physical literacy skills
The Montreal Canadiens are pleased to announce the selection of defenseman Mike Matheson as the recipient of the Jean Béliveau Trophy for the 2022-23 season.
Awarded annually to the Canadiens player who best exemplifies leadership qualities in the community, the trophy is accompanied by a $25,000 donation made by the Montreal Canadiens Children's Foundation to a charity of the player's choice.
Established in 2003 to commemorate the 50 years of association between Mr. Jean Béliveau and the Montreal Canadiens, this award aims to celebrate the values that characterized the great man and player that he was, one who devoted a significant part of his career to supporting various organizations mainly helping disadvantaged children. Candidates are evaluated based on their commitment and leadership, as well as their involvement and time invested in collective and personal initiatives that are close to their hearts.
Mike Matheson joined the ranks of the Montreal Canadiens in July 2022. Since joining the organization, the West Island native has gotten involved in the promotion of physical activity and healthy lifestyle habits. By choosing to become an ambassador for the Champions for Life Foundation, Mike is committed to becoming an agent of change by sharing his knowledge, his journey and offering his support to promote the development of physical literacy in our communities. Aware of the role he can play as a professional athlete, Mike visits schools where the Champions for Life Foundation program is deployed and meets students in grades 1 to 6, reading interactive stories allowing children to reproduce the skills illustrated in them. He also takes every opportunity offered to him to speak out and remind young people that it is not necessary to play in the NHL to be a champion, that it is important to be active to be healthy, and that success is about doing our best to achieve the goals we set for ourselves in life.
Mike Matheson succeeds goaltender Jake Allen, who was the recipient of the award last season. Past winners of the trophy are Jonathan Drouin, Phillip Danault, Shea Weber, Brendan Gallagher, Max Pacioretty, P.K. Subban, Carey Price, Brian Gionta, Michael Cammalleri, Maxim Lapierre, Patrice Brisebois, Alex Kovalev, Francis Bouillon, Steve Bégin, and Saku Koivu.