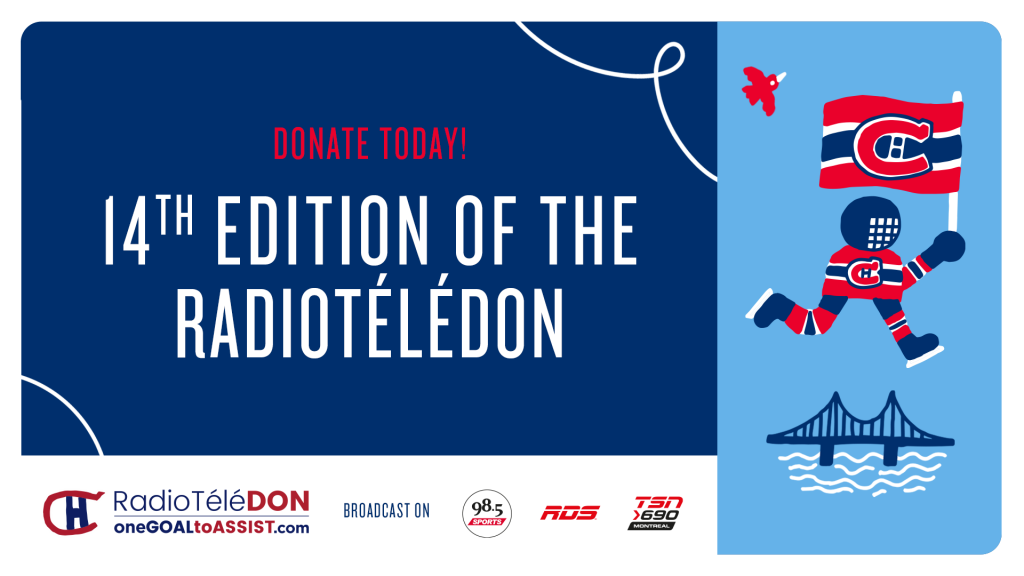 The 14th edition of the #oneGOALtoASSIST RadioTéléDON benefitting the Montreal Canadiens Children's Foundation will be held today, on March 9. This important fundraising event, which has helped raise more than $1.6 million since its very first edition, will be broadcast live from the Bell Centre on RDS, 98.5 FM and TSN 690. 
Throughout the day, the team's broadcast partners will appeal to the generosity of their listeners by inviting them to make a pledge to support the Montreal Canadiens Children's Foundation in its important mission to encourage a healthy and physically active lifestyle among children from underprivileged backgrounds across Quebec. All three of their programming will feature interviews and reports on various organizations and programs supported by the Foundation, allowing the public to learn more about its actions. 
Fans can already show their support for the cause by donating online at onegoaltoassist.com or by texting "HABS" to 45678 to make a $10 donation. From 4:30 p.m. until the end of the game between the Montreal Canadiens and the New York Rangers, Canadiens Alumni, spouses of current players and Quebec personalities will collect donations from the public over the phone. Supporters who donate $50 or more will automatically receive a souvenir photo of Nick Suzuki, Cole Caufield or Arber Xhekaj as a thank you. Interac Corp had already kickstarted this fundraising campaign last week by committing to match the first $10,000 in donations made by the public. 
HOW TO GIVE?
Online ➜ oneGOALtoASSIST.com
By phone ➜ 1-888-925-2133
By text message ➜ Text "HABS" to 45678 to make a $10 donation
In support of the RadioTéléDON, Habs players will be wearing special jerseys prior to the game on Thursday. Designed by artist Benoit Tardif, these warmup jerseys will highlight the Foundation's programs and initiatives, which allow thousands of youths from low-income neighborhoods to discover the benefits of physical activity each year. In order to evoke camaraderie and team spirit, which are values embodied by the Foundation on a daily basis, nicknames of players will exceptionally appear on the back of these jerseys. Certain elements of the sweater will also pay homage to Montreal, where the Foundation was founded in 2000 and where nearly half of the BLEU BLANC BOUGE rinks have been built to this day. As a result, iconic local landmarks and symbols, such as the Olympic Stadium and Mount Royal, as well as a smoked meat sandwich and bagel, can be found on one of the shoulder patches. These collectible items are already up for auction at radioteledon.bidandraise.com and fans have until Tuesday, March 14 at 7 p.m. to place their bids. 
As part of this event, the Montreal Canadiens Children's Foundation will also hold a special raffle of its 50/50 Lottery, which is now offered online at 5050.canadiens.com. In addition to a chance to win half of the jackpot, participants will be able to purchase additional $5 tickets to win a trip for two to New York to attend the Canadiens' game against the Islanders on April 12. The winning numbers for both of these raffles will be drawn at the start of the 3rd period and will be posted shortly after on the Foundation's website. 
PHOTO PROMOTION: 
Donate $50 and receive an official photo of

Arber Xhekaj

 

Donate $100 and receive the official photos of

Cole Caufield

and

Arber Xhekaj

 

Donate $250 and receive a photo of

Nick Suzuki

signed by hand, as well as the official photos of

Cole Caufield

and

Arber Xhekaj