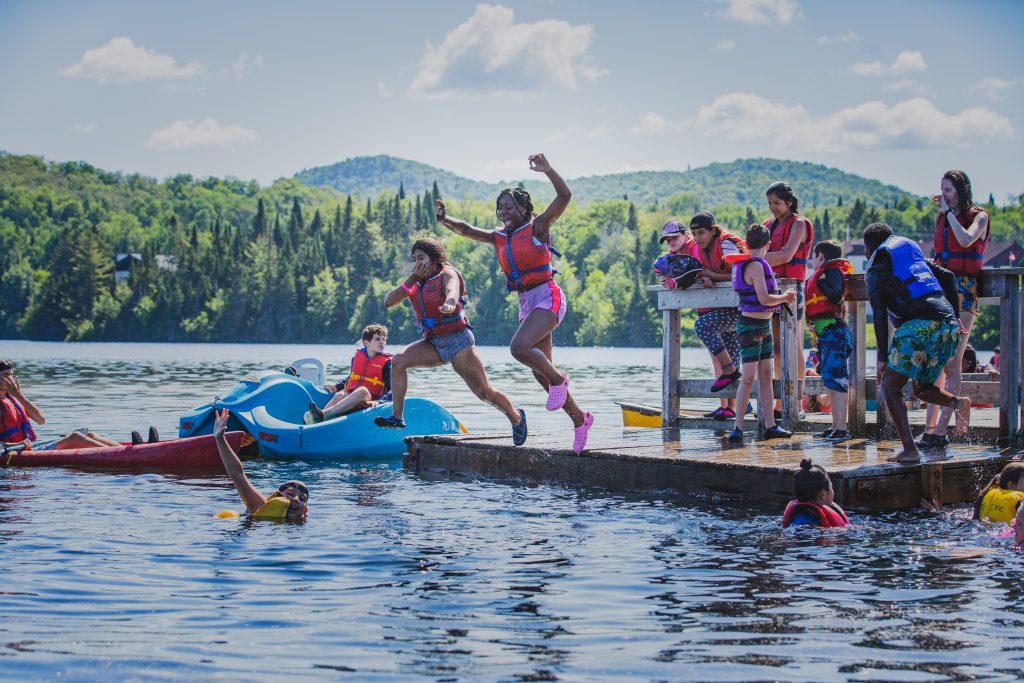 The hockey season might officially be over, but the Foundation is still hard at work planning its summer programs in order to offer children from all backgrounds a chance to be more active all year long! In fact, for a third consecutive year, we have committed to providing hundreds of underprivileged fifth-and-sixth grade children a unique opportunity to experience the magic of summer camp.
From June 29 to July 5, 97 kids aged 10 to 12 from 6 elementary schools in the greater Montreal area got to live, for the very first time in their lives, a one-week trip to Le P'tit Bonheur, a summer camp located in the Laurentians.
On the menu:
7 days and 6 nights far from the city;
3 healthy meals per day;
6 km² of enchanting nature sites surrounded by 6 lakes;
souvenirs and friendships that will last a lifetime!
Each year, our young campers are selected according to specific criteria previously established by the Foundation. To be chosen, those students must have stood out during the school year, either by showing positive leadership or academic perseverance, or by committing themselves in a remarkable way to their peers or to their school.
Our goal with our BLEU BLANC BOUGE at Camp program is quite simple: by offering underprivileged kids the chance to discover a wide range of sports in nature, we want to encourage them to foster a healthy lifestyle that includes daily physical activity.
61% of young campers are more likely to be more physical active after they return home from summer camp.
The benefits of summer camps on youth of all ages are well known. Throughout their stay, in addition to learning about various aquatic and outdoor activities such as rock climbing and kayaking, campers also have the opportunity to work on increasing their openness towards others and on developing their sense of resourcefulness and their confidence in themselves as well as in their abilities. In addition, studies show that because of the strong bonds and meaningful friendships that are created there, camps offer an environment that is especially conducive to the development of children's social skills, and that the first camp experience tends to have the greatest degree of impact on this aspect of their social integration. Camps also provide a safe and secure setting where they can learn to express and cope with different emotions that are new to them, and where they can connect with nature in a way that makes them more sensitive and respectful of the environment.