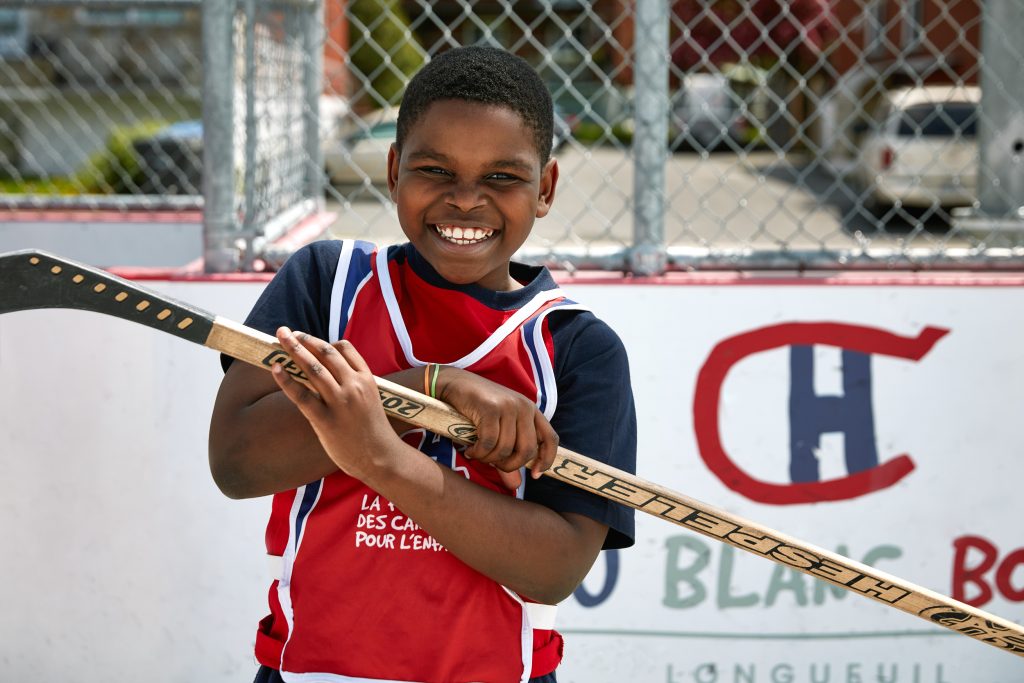 After presenting you BLEU BLANC BOUGE at camp last week, today, we'd like to introduce you to the second part of our summer program that will be enlivening some of the communities in which the Foundation is implanted all through July and August.
For a period of 5 weeks, our ball hockey program will take control of our BBB rinks. This summer, more than 200 kids from underprivileged neighborhoods throughout the province will be able to benefit from this program offered in four day camps in the boroughs of Ahuntsic-Cartierville, Notre-Dame-de-Grâce and Saint-Michel in Montreal, as well as in the city of Trois-Rivières.
As the summer counterpart to our BLEU BLANC BOUGE in Action program, these ball hockey clinics are an opportunity for children ages 8 to 12 to discover the benefits of a physically active lifestyle. During the 5 sessions, a whole range of activities, both educational and recreational, are made available to our young ball hockey players, who, by having fun, learn to associate physical activity with pleasure. At the end of the program, all participating teams will converge at the Bell Centre, where they will take part in a friendly tournament in the Montreal Canadiens' amphitheater.
In addition to developing a taste for regular physical activity within an organized framework, kids also get to socialize and are taught the importance of teamwork in a safe environment, surrounded by highly qualified and dedicated coaches.
Although our rinks are predominantly used for ice hockey and ice skating during the winter months, with the arrival of spring weather, they gradually morph into multi-sports facilities on which children of all ages can practice a multitude of sports, and become real gathering places during school holidays. By teaming up each year with different day camps offered by the city, local recreation centres and nearby YMCAs, we can introduce our rinks to a larger pool of potential year-long (or even lifelong!) users.