Back to news
News
13 April 2022
Jake Allen's goalie mask up for auction until April 19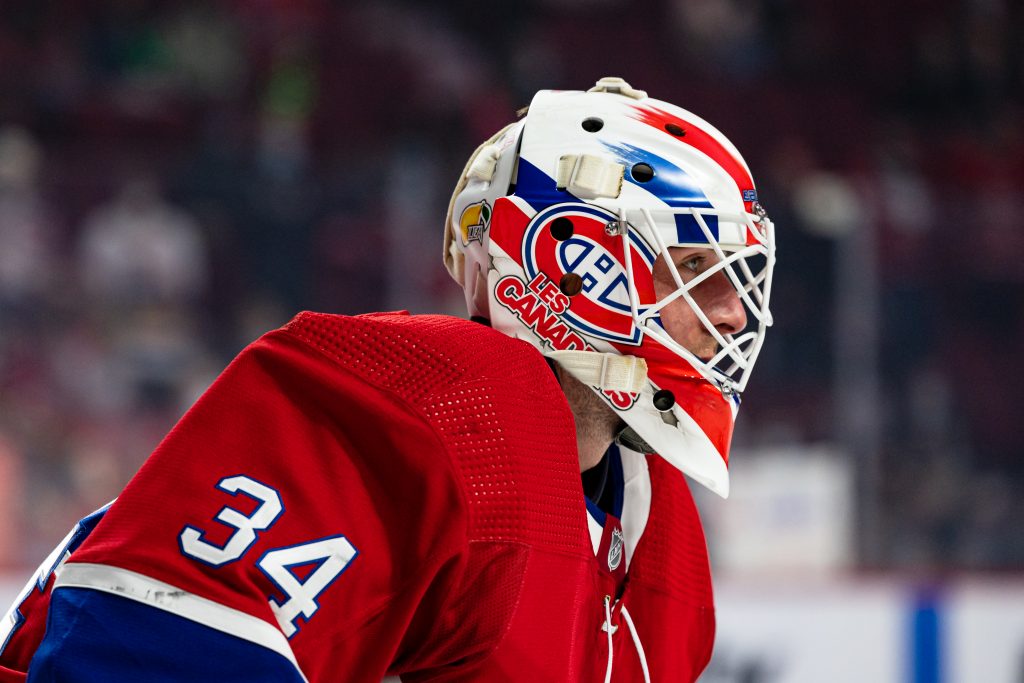 Following a season-ending lower-body injury, Jake Allen is auctioning off the mask he wore since March to support initiatives that help remove barriers to sports participation for low-income kids in Quebec and New Brunswick.
The one-of-a-kind mask, which will be autographed by the veteran goaltender as well as his teammates, is up for auction until Tuesday, April 19 on allen34.bidandraise.com, where the top bid is currently over $6,700. The winner of this exclusive package will also receive the mask directly from Jake at the end of the season at the Bell Sports Complex in Brossard.
Fans can also purchase limited-edition photographs from the 2021-22 campaign. Each autographed picture will cost $34, while photographs accompanied by a personalized handwritten note from Jake can be purchased for $70.
The Fredericton, NB native began a tradition of using a game-worn mask to raise funds for worthy causes when he was playing for the St. Louis Blues. This time around, the proceeds from the auction will support two charitable organizations: the Montreal Canadiens Children's Foundation, and Program 34, a non-profit Jake and his wife, Shannon, founded in their home province in 2016.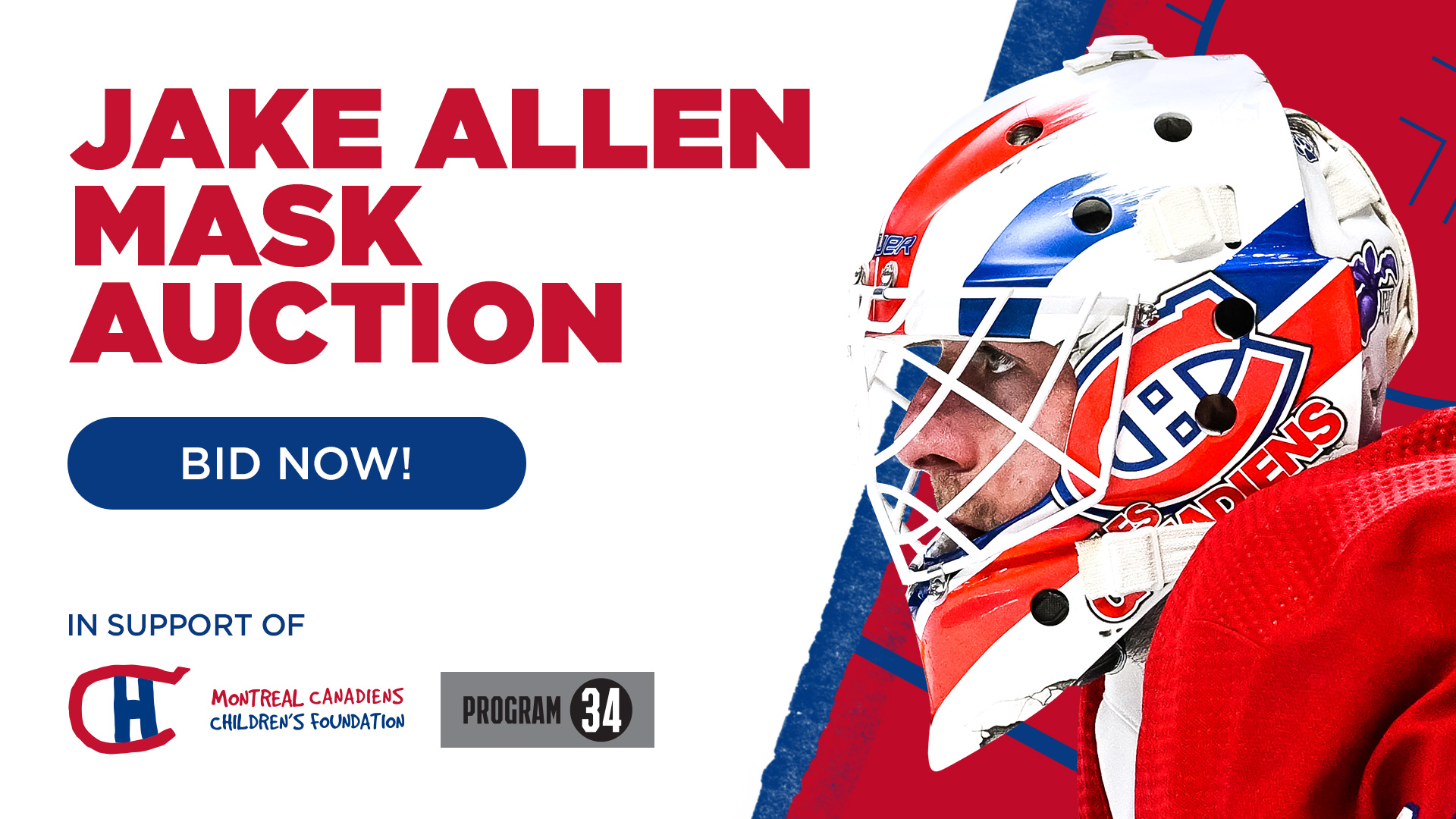 Half of the money raised will be donated to the Montreal Canadiens Children's Foundation, allowing over 100 inner-city children from underprivileged neighborhoods where BLEU BLANC BOUGE rinks have been built to take part in their summer camp. The funds donated to Program 34 will be redistributed to New Brunswick charities pursuing youth programming, community engagement and athletic recreation.
"Program 34 was created to help other non-profit organizations throughout the province, in the greater Fredericton region and all over, in many different capacities: in sports, in business, and in poverty," said Jake Allen. "We're trying to make the community a better place."
Allen teamed up with local airbrush artist Sylvie Marsolais to create his latest mask. The design, which features a vintage Canadiens logo on both sides, was created in collaboration with Marsolais' partner, Alexandre Mathys. Like on every Allen mask, his number, as well as tributes to his two daughters, his dogs, and his deceased grandparents, adorn the back plate.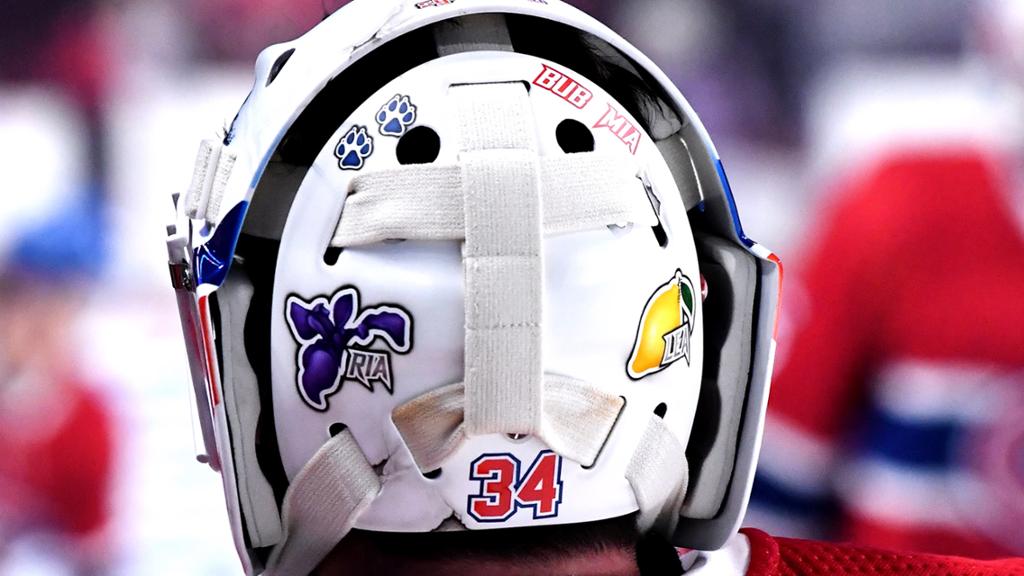 "Jake wanted a vintage, old-school look with a streamlined design, mostly consisting of oversized graphics and solid colors. That's his signature style," added Marsolais. "We dug up this old Canadiens logo that was found on pennants, pucks and magazines back in the 80's and 90's. To add to the retro appearance of the mask, using paint, we recreated a cracked texture for a more worn-in effect."
Voir cette publication sur Instagram
Marsolais and Mathys' professional airbrush company, Sylabrush, based in Sainte-Marthe-sur-Le-Lac, specializes in custom goalie masks. Around 50 hours went into the creation of Allen's mask, from the first sketches of the design up until it was ready to be delivered. While the duo has been custom-painting masks for clients like Tampa Bay Lighting's Andrei Vasilevskiy and recently retired Boston Bruins star Tuukka Rask, the Habs' own Sam Montembeault has also been employing their services since he began playing for the Blainville-Boisbriand Armada in the Quebec Major Junior Hockey League (QMJHL).