Back to news
Événements
13 September 2023
Foundation sets new fundraising record at the Canadiens Golf Tournament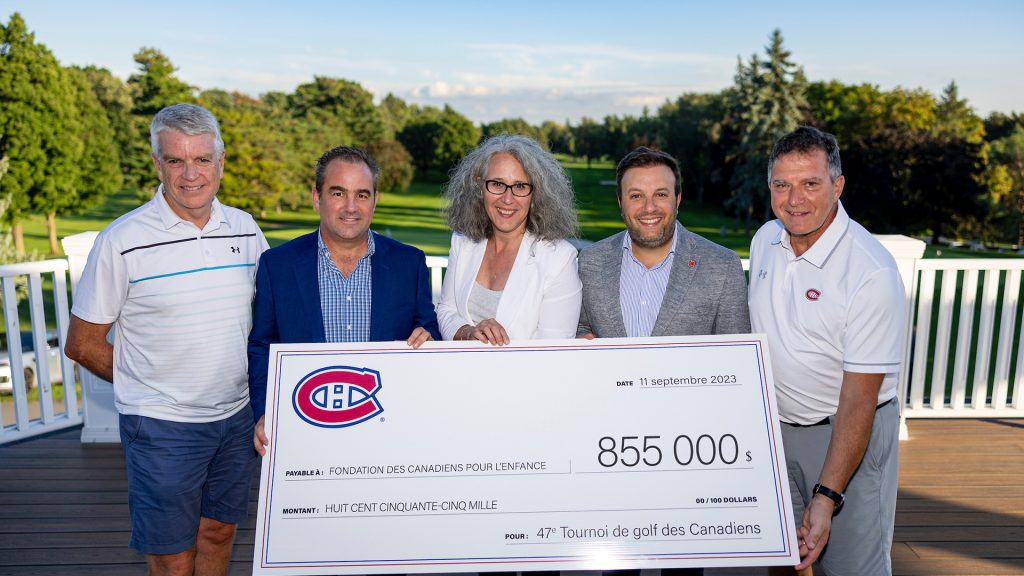 Each year, Canadiens players, coaches, management, and alumni tee off alongside guests at the beautiful Club Laval-sur-le-Lac for the team's charity golf tournament to kick off the hockey season. This year's edition was a resounding success thanks to the generous support of sponsors, participants, and volunteers. Fans at home were able to be part of the action and contribute to these fundraising efforts through an online raffle and digital auction, presented by CIBC.
In town to prepare for the next edition of the Presidents Cup which will take place in Montreal in the fall of 2024, Mike Weir, captain of the international team, and Jim Furyk, captain of the American team, surprised members of the organization and their guests on the greens of Laval-sur-le-Lac. On behalf of the Presidents Cup, they made a $100,000 donation to the Foundation, which will allow hundreds of underprivileged children to learn to skate this winter.
The total amount raised at the tournament will support the Foundation in its mission to offer underprivileged children equal opportunities to be physically active and play sports over the next year. Part of the funds will be used for the construction of the next BLEU BLANC BOUGE ice rink, scheduled to open in January 2024 in Saint-Jérôme, while another portion will help provide crucial financial support to organizations aiding vulnerable youth across the province.
Since 2000, the Canadiens Golf Tournament has raised over $9.6 million for the Montreal Canadiens Children's Foundation.