Back to news
News
19 June 2023
The City of Saint-Jérôme broke ground on the 14th BLEU BLANC BOUGE rink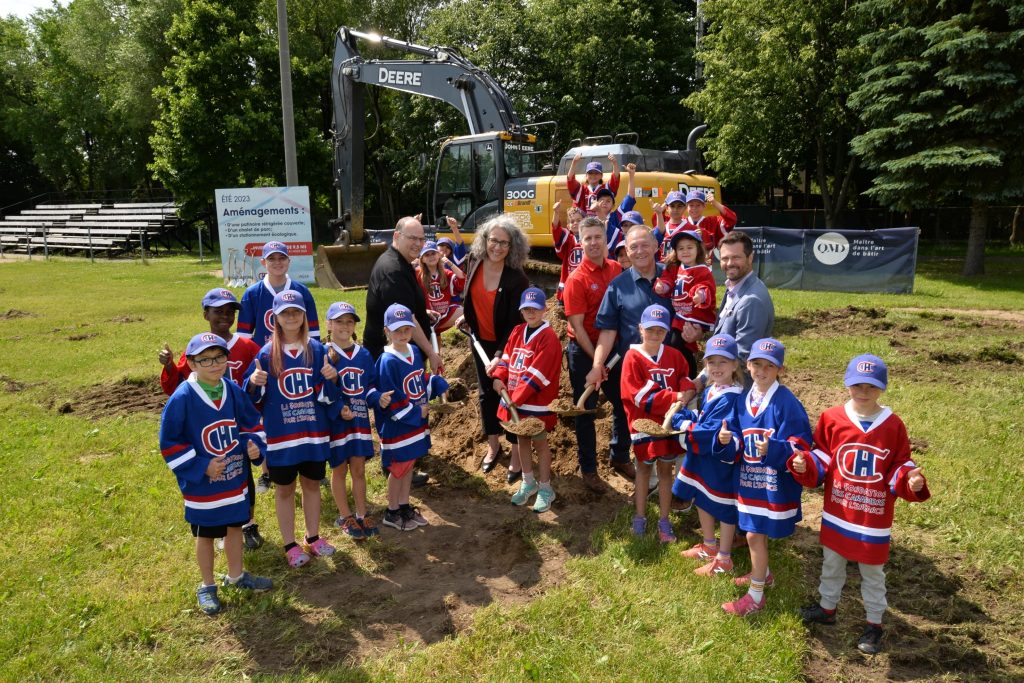 The groundbreaking ceremony for the BLEU BLANC BOUGE skating rink in Saint-Jérôme was held this morning at parc Melançon. The official launch of the construction work was done by the Marc Bourcier, mayor of Saint-Jérôme, Geneviève Paquette, vice-president of community engagement for the Montreal Canadiens and general manager of the Montreal Canadiens Children's Foundation. Jean Junior Désormeaux, councilor for the municipal district where parc Melançon is located, as well as representatives of Desjardins Securities, a major partner of the Foundation, were also present for this event. Students from a 3rd grade class at École Dubois, located a few steps from the park, joined them to mark the occasion.
"What a pride to have the first shovel in the ground this morning of our brand new BLEU BLANC BOUGE rink, and to do so in such good company! This project that has been close to my heart for a long time, and finally, the work can begin. I would also like to thank the Montreal Canadiens Children's Foundation once again for choosing to set up its 14th bleu-blanc-rouge skating rink in Saint-Jérôme, in parc Melançon, whose proximity to schools, youth-focused community organizations and social housing makes it a perfect location for this community gathering place," commented Marc Bourcier, Mayor of Saint-Jérôme.
"The BLEU BLANC BOUGE rink in Saint-Jérôme is part of our desire to implement this type of high-quality multi-sport infrastructure in disadvantaged and often underserved areas, in order to get young people from these communities to be more active. It will provide additional sports and recreational facilities for local children and families, which will allow them to discover the benefits of integrating physical activity into their daily lives and experience the pleasure of being active throughout the seasons", added Geneviève Paquette, General Manager of the Montreal Canadiens Children's Foundation.
To carry out this project, which will take approximately 18 months, the Montreal Canadiens Children's Foundation has agreed to cover the construction costs of the skating rink and the CO2 refrigeration system, in addition to providing 100 helmets, 100 hockey sticks, 100 pairs of skates, 2 hockey nets and 4 removable basketball nets, an estimated donation of nearly $2.4 million.
To complete the project, the City of Saint-Jérôme will invest $9.5 million for the installation of a roof to extend the ice period and provide year-round weather protection. A park chalet containing amenities, including toilets, a changing room and a counter for the loan of equipment will also be built, as well as an eco-friendly parking lot. Work to develop both the skating rink and chalet infrastructures will be completed by the end of the year, while the construction of the roof will begin next spring. The opening of the facilities to the public is scheduled for the end of 2024.