Back to news
News
26 November 2020
La Poche Bleue and the Foundation team up for kids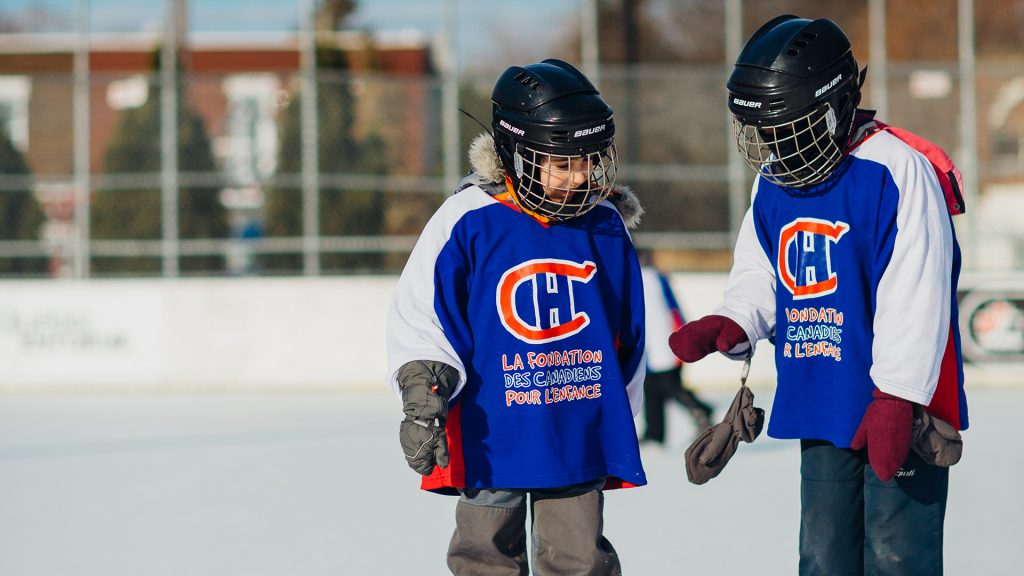 On Wednesday November 25, during the weekly podcast of La Poche Bleue, hosts Maxim Lapierre and Guillaume Latendresse took advantage of the visit of Geoff Molson, owner, president and CEO of the Montreal Canadiens, to announce a new partnership between La Poche Bleue and the Montreal Canadiens Children's Foundation.
"We are very proud to partner with La Poche Bleue and Guillaume and Maxim, two former Habs players who have always been very involved in their community," said Geoff Molson, who is also a member of the Foundation's Board of Directors. "We hope that this association can help us promote the work of the Foundation, and we are happy to be able to count on both Maxim and Guillaume's generosity as well as the influence they have in the community."
As part of this new collaboration, a BLEU BLANC BOUGE segment will be broadcasted regularly on La Poche Bleue's podcast to highlight the Foundation's initiatives in the community. Also, La Poche Bleue will contribute financially to the Foundation through some of their various future projects with Quebec-owned businesses. Guillaume Latendresse and Maxim Lapierre will also be involved in promoting the Foundation's actions in neighbourhoods where its programs are offered to kids.
"Guillaume and I always took real pride in being able to give back to the community that has supported us so much during our years with the Canadiens," said Maxim Lapierre. "It's very gratifying to see that our podcast project, combined with this partnership, will be able to have a direct impact on children."
To start off their fundraising efforts, the duo created La Poche Bleue-branded socks in partnership with the Quebec company Robin des bas, which offers a pair of socks to Accueil Bonneau for each pair sold. In addition, a portion of the proceeds from the sale will be donated to the Montreal Canadiens Children's Foundation.
"This will be a win-win-win project," said Guillaume Latendresse. "In addition to pursuing our goal of supporting local businesses, we can also help local disadvantaged children and communities."
The La Poche Bleue podcast, which is broadcast live on YouTube every Wednesday evening at 7:30 p.m., rebroadcast on Sundays at 3 p.m. on 98.5 FM, and available at all times on Spotify, Google Podcasts and iTunes, has generated more than one million views and already has more than 40,000 subscribers on its social platforms. Among the guests who came to share their anecdotes are athletes such as Georges St-Pierre, Jacques Villeneuve, Martin Brodeur, Mikael Kingsbury, Kris Letang, David Perron, José Théodore, Michel Therrien, Georges Laraque and Guy Carbonneau, as well as artists Jonathan Painchaud, Sam Breton and Louis Morissette.
About La Poche Bleue
La Poche Bleue is a weekly podcast hosted by former professional hockey players Guillaume Latendresse and Maxim Lapierre, during which they welcome guests (athletes, artists and public figures) from Quebec with whom they discuss in a relaxed and festive environment in order to promote Quebec products.