Back to news
News
8 June 2021
Groundbreaking ceremony for the BLEU BLANC BOUGE rink in Saguenay!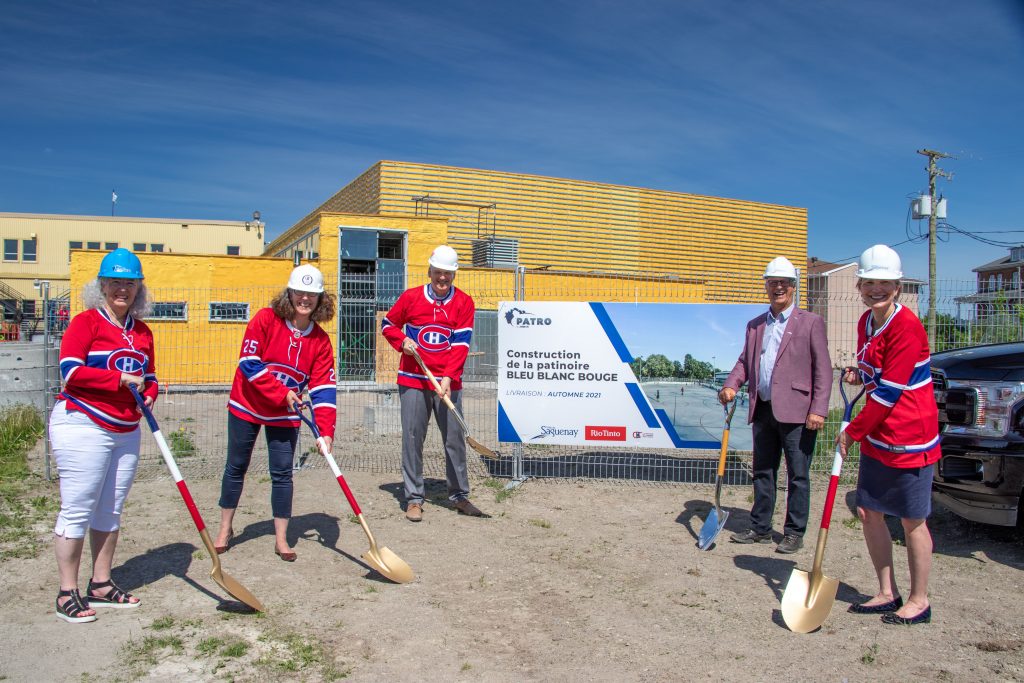 Construction work on the next BLEU BLANC BOUGE rink, in the Jonquière borough of Saguenay, has officially started! On Tuesday, June 8, dignitaries from the Montreal Canadiens Children's Foundation, the City of Saguenay and their partners, such as Rio Tinto, broke ground on the site of the Patro de Jonquière, where this new infrastructure, which will be able to accommodate skaters starting next winter, will be built.
"This rink will be a major attraction for the sector and for the Patro. People from all over Saguenay, young and not so young alike, will be able to enjoy it and practice their favorite sport. This is an additional commitment from the City towards healthy lifestyles. This groundbreaking ceremony is a very beautiful day. I salute the partners who made the construction of this facility possible, as it is the result of teamwork that we see today. I can't wait for the first skaters to be able to jump on the ice in November when the work ends," said Josée Néron, Mayor of Saguenay.
An outdoor, refrigerated, and multisport rink, built according to NHL standards, will soon see the light of day in downtown Jonquière, right behind the Patro. This represents a $1.9 million investment from the Montreal Canadiens Children's Foundation, which will be acting as the prime project leader. The legacy of this infrastructure to the City of Saguenay is part of a strategy to implement the Foundation's BLEU BLANC BOUGE program, supported by Rio Tinto through a major donation spread over three years. This donation made to the Foundation by the Rio Tinto Aluminum Canada Fund, aims to bring long-term social and economic benefits to the communities in which Rio Tinto operates. For its part, the City of Saguenay is investing a total of $680,100 for site development and the construction of adjacent facilities.
"We want to facilitate access to all our facilities and activities in order to allow each young person to remain active and benefit from a healthy living environment conducive to their development," added Lucie Gagnon, president of the Patro de Jonquière.
Le Patro was the perfect site to welcome an outdoor ice rink which aims to provide young people from disadvantaged backgrounds with access to sports facilities and physical activity. The goal is to keep the surrounding site dynamic and lively throughout the year.
"We are happy to team up with the City of Saguenay to provide a high-quality infrastructure to young people and families in the region. The BLEU BLANC BOUGE program is part of a concerted strategy to help children, and its success is based not only on teamwork with stakeholders already involved in the community – including municipal, school and community stakeholders – but also companies wishing to be part of a unifying and promising project. As such, we take this opportunity to thank Rio Tinto for its support to the BLEU BLANC BOUGE program by donating to the Foundation, which will allow us to offer better access to the practice of sporting activities to children and their families in the Jonquière borough and the surrounding area, while promoting healthy lifestyles," said Geneviève Paquette, general manager of the Montreal Canadiens Children's Foundation.
"Rio Tinto is very proud to be actively involved in its host communities and to support the health and well-being of youth. Rio Tinto's contribution to the BLEU BLANC BOUGE program will provide better access to sports activities for families in the Jonquière borough and the surrounding area, particularly those from more disadvantaged backgrounds, while promoting healthy lifestyles," concluded Sébastien Ross, managing director of Quebec operations for Rio Tinto.