Back to news
Events
21 May 2020
A refundable container collection to support the Foundation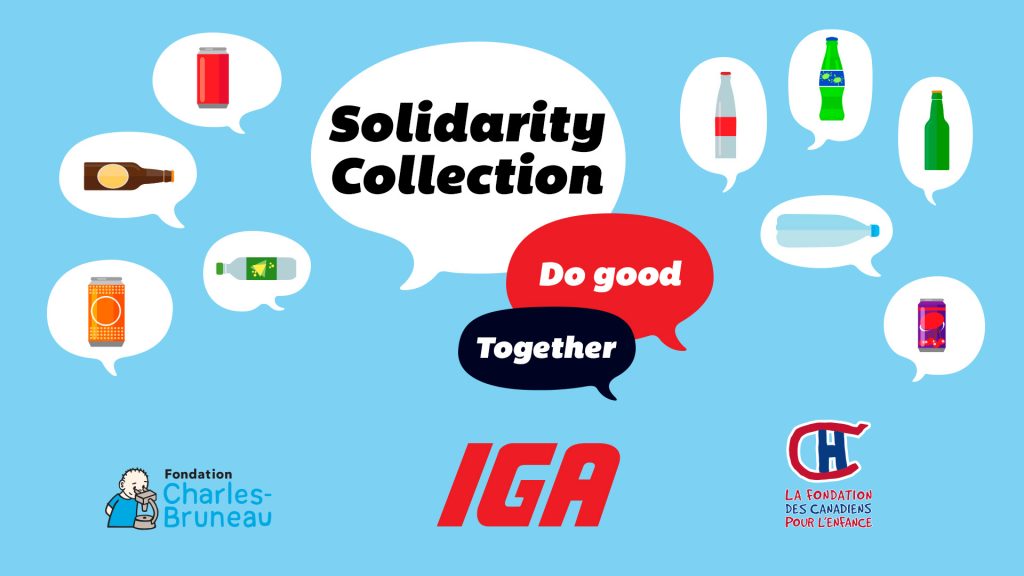 Every Saturday in May, citizens will be able to safely dispose of their cans and bottles in the parking lot of the Bell Sports Complex. Part of the deposit money raised will be donated to the Montreal Canadiens Children's Foundation.
On Saturday, May 16, 23 and 30, Montrealers and South Shore residents will be able to dispose of their refundable containers securely as IGA and the Montreal Canadiens join forces to set up a safe outdoor collection site outside the Bell Sports Complex that will benefit the Montreal Canadiens Children's Foundation and the Charles-Bruneau Foundation.
The Montreal Canadiens' training facility will host one of the hundreds of Solidarity Collections organized simultaneously by different IGA and IGA extra merchants throughout Quebec every Saturday in May.
Citizens of the greater Montreal area are invited to go to the Bell Sports Complex parking lot, located in Quartier DIX30 in Brossard, from 10:00 a.m. to 3:30 p.m. starting this Saturday, to donate their deposit-refund containers. The deposit money raised during all three Canadiens Solidarity Collections will benefit two organizations working for the health and well-being of youth in Quebec: the Montreal Canadiens Children's Foundation, which encourages physical activity and the adoption of a healthy lifestyle among underprivileged children, as well as the Charles-Bruneau Foundation, whose mission is to provide children battling cancer with the best chances of recovery by funding pediatric hematology and oncology research.
Eight weeks after the collection of cans and bottles was suspended in grocery and convenience stores across the province, the current configuration of stores still prevents food retailers from accommodating collection services inside their establishments, where space remains limited and efforts are being made to reduce the number of customers. While some merchants have started collecting empty cans and bottles in their store parking lots, others like Nicolas Picard, owner of the IGA extra Picard Supermarket, have instead decided to move their operation to larger spaces, such as the outdoor parking lot of the Bell Sports Complex, where it's easier to implement social distancing measures. Both Groupe CH and Sobeys operations teams have been working together to coordinate and plan the logistics of this event, in compliance with current public health directives, to ensure the health and safety of the population and of all participating volunteers.
Here are some guidelines to follow:
Returnable containers must have been thoroughly rinsed

All containers must be sorted in advance, so glass bottles are separated from plastic ones and cans, and bags must be placed in the trunk of your car

Consumers must remain in their vehicle upon arrival – in order to minimize contact, volunteers will be responsible for collecting bags from the trunk of your car

Glass bottles must be easily accessible to volunteers, since they will be collected first
"We are pleased to team up with IGA and their local merchants for these collections. This initiative will allow us and many other non-profit organizations to carry on our charitable mission with our vulnerable clientele, who are weakened by the effects of the pandemic," said Geneviève Paquette, executive director of the Montreal Canadiens Children's Foundation and vice-president of community engagement for the Montreal Canadiens.
The multiple Solidarity Collections taking place over the next three weekends will also provide temporary relief to both major brewers and microbreweries in the province, who are facing a shortage of reusable containers that is forcing them to slow down their production. The Association des Brasseurs du Québec (ABQ) estimates that over 300 million single-use or reusable cans and bottles sold since the start of the pandemic, and which can now be disposed of, have probably been accumulated in Quebec homes.