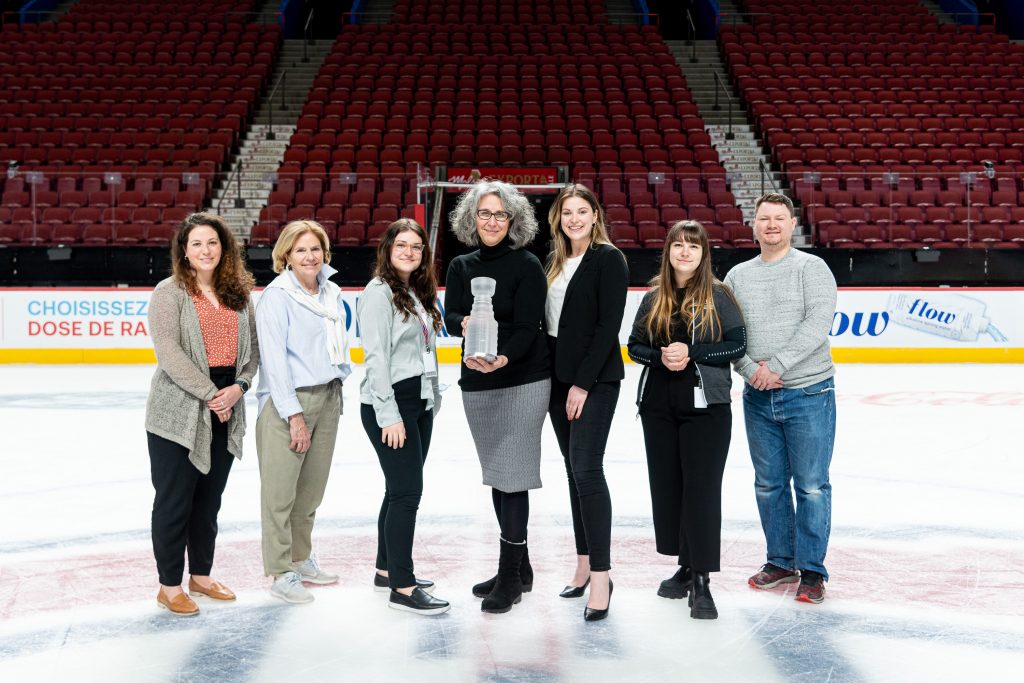 The Montreal Canadiens were awarded this week with a "Stanley" for best Social Impact and Growth Initiatives for the Montreal Canadiens Children's Foundation's flagship BLEU BLANC BOUGE Program. Presented annually by the National Hockey League, The Stanley Awards aim to honor Club business and marketing achievements by recognizing excellence, innovation, and creativity for fan engagement in our sport.
Presented by hockey pioneer Manon Rhéaume, the Social Impact and Growth Initiatives trophy for the 2019-20 season went to the club whose campaign was best designed to build a healthier and more vibrant community through programs generating greater access, opportunity, and inclusion. Despite having received a record-breaking number of submissions in this category, the NHL selected the BLEU BLANC BOUGE program, which responds to the need for quality sports infrastructures in underserved low-income neighborhoods across the province.
"The Montreal Canadiens Children's Foundation and its BLEU BLANC BOUGE program are at the heart of our organization's actions in the community. By deploying this promising initiative that's carried out in consultation with the local communities where the rinks are located, we hope to have a positive and lasting impact on the health of young people and families in Quebec. We are grateful and proud that the work and efforts of the Foundation's team have been recognized by the National Hockey League," said Geneviève Paquette, vice-president of community engagement and general manager of the Foundation.
The laureates in each category were meant to be recognized at the 2020 NHL Club Business Meetings, which were to be held in March of 2020 but had to be canceled due to the pandemic. Programs implemented between September 2018 and December 2019 were eligible for entry in the 2020 NHL Stanleys. During this period, more than $2.45 million were invested in the community by the Montreal Canadiens Children's Foundation through the BLEU BLANC BOUGE program. Of this amount, $1.7 million was used to build an 11th refrigerated outdoor rink in Joliette, while $662,000 financed the purchase of hockey equipment and the holding of on-ice sessions with our coaches. Thanks to the sums invested, over 8,000 children learned how to skate in the winter of 2019, while 10,000 others discovered ball hockey in a safe and secure environment throughout the year. Since then, two more rinks have been built in the cities of Val-d'Or and Saguenay, with over a million users having been active on these 13 sports and recreational infrastructures since the first one was built in 2009.
About the BLEU BLANC BOUGE program
Built in accordance with NHL standards and dimensions and featuring professional ice quality, BLEU BLANC BOUGE rinks are versatile enough to be used for other sports during the year. Predominantly used for ice skating and hockey from late November to mid-March, the rinks become an ideal playground for other sports such as basketball, soccer, ball hockey and other types of games during the spring, summer and fall months. The donation of this infrastructure comes with 100 pairs of skates, 100 helmets and 100 hockey sticks for children to use at the facility. A flagship project of the Foundation since 2009, the BLEU BLANC BOUGE program now has 13 outdoor, refrigerated and multipurpose rinks. Six community rinks have been built in underprivileged boroughs of Montreal, while the other seven are located in Longueuil, Laval, Sherbrooke, Trois-Rivières, Joliette, Val-d'Or, and now Saguenay. These last three infrastructures, built since 2019, are distinguished by the use of a new energy efficient refrigeration system powered by CO2 as well as universally accessible facilities for the practice of sledge hockey.