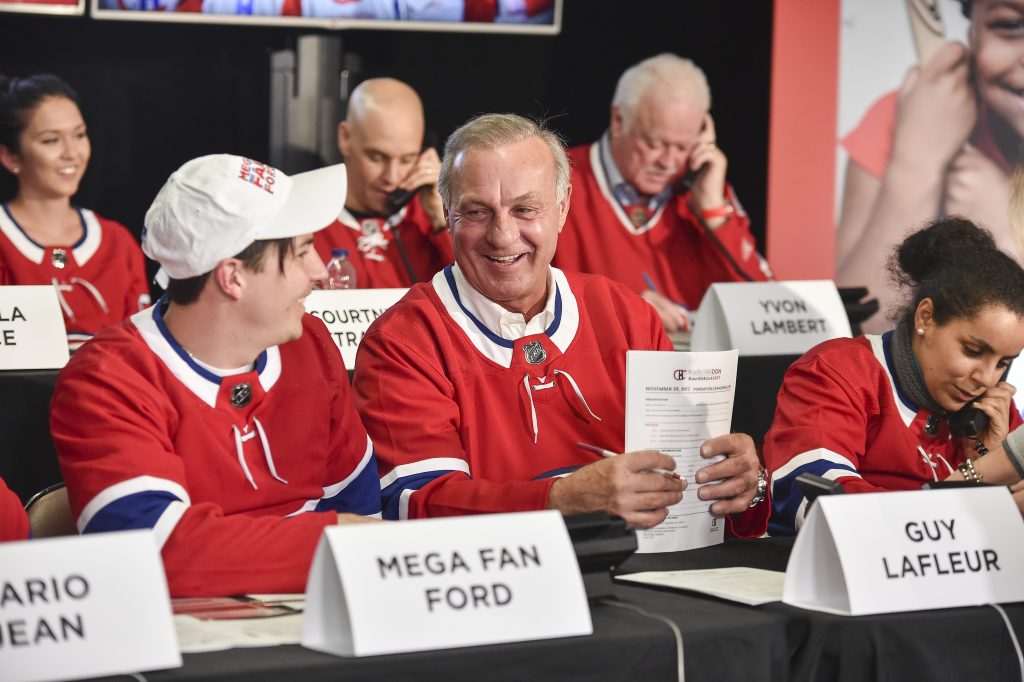 They were named Maurice, Jean, Guy. Heroes on the ice who thrilled Montreal, the province of Quebec, and the entire country. They also inspired their community by giving their time unsparingly, simply to offer a handshake, a kind look, an autograph, or to visit a sick child.
On August 31, 2000, the Montreal Canadiens Children's Foundation was born, with Guy Lafleur acting as chair of its board of directors. Accompanied by members of the Club's management, committed businesspeople, his idol Jean Béliveau, and his brother-in-arms Réjean Houle, Lafleur brought this organization to life. Over the next 22 years, the Foundation encouraged many friends of the Canadiens to generously offer help, support, and inspiration to thousands of children from all regions of Quebec.
Golf tournaments, motorcycle rides, chairing of fundraising campaigns, RadioTéléDON, cocktail parties, alumni and celebrity hockey games, benefit evenings, inauguration of BLEU BLANC BOUGE rinks, intimate dinners and helicopter rides with major donors, greetings and thanks to our volunteers and partners; name the event and Guy was there, and his presence was invaluable.
At each event, Guy arrived early and was last to leave. He looked forward to appearances with great enthusiasm and spoke to everyone as a valued friend.
The Montreal Canadiens Children's Foundation mourns the passing of one of its founders, a patron with a big heart who proudly carried the torch of solidarity and caring for others. His humility and perseverance motivated thousands of young people.
Today, they are named Carey, Jonathan, Nick, Cole… May the memory of Guy Lafleur accompany and inspire them on their journey with the Canadiens, as he will continue to guide us in pursuit of our mission on behalf of children in need.
Guy was an electrifying player and a simple, generous, attentive man. He will forever remain in our hearts.
Thank you, Guy.
Pierre Boivin, O.C., C.Q.
Chairman of the Board
Geneviève Paquette
General Manager
Cosigned by Robert Sirois, Former President and General Manager of the Montreal Canadiens Children's Foundation, and the members of its board of directors: Lucie Boivin, Vice President, Montreal Canadiens Children's Foundation; Éric Boyko, President and CEO, Stingray; Mélanie Dunn, President and CEO, Cossette; Atty. Éric Forget, Partner, LJT Lawyers; Mark Galardo, Senior Vice President, Network Planning and Revenue Management, Air Canada; Réjean Houle, President, Montreal Canadiens Alumni Association; Marjorie Minet, Executive Vice President, Wealth Management Advisory Services, Desjardins; Geoff Molson, Owner, President and CEO, Montreal Canadiens; Justin Molson, Owner, Montreal Canadiens; Karine Moses, Vice-chair, Quebec and SVP, Content development & News, Bell; Richard Nadeau, Chief Financial Officer, Aéro Mag 2000; François-Xavier Seigneur, Chairman of the board, Effix.