Back to news
News
19 April 2017
Over $2.5 Million to Help Children Across Quebec to Be More Active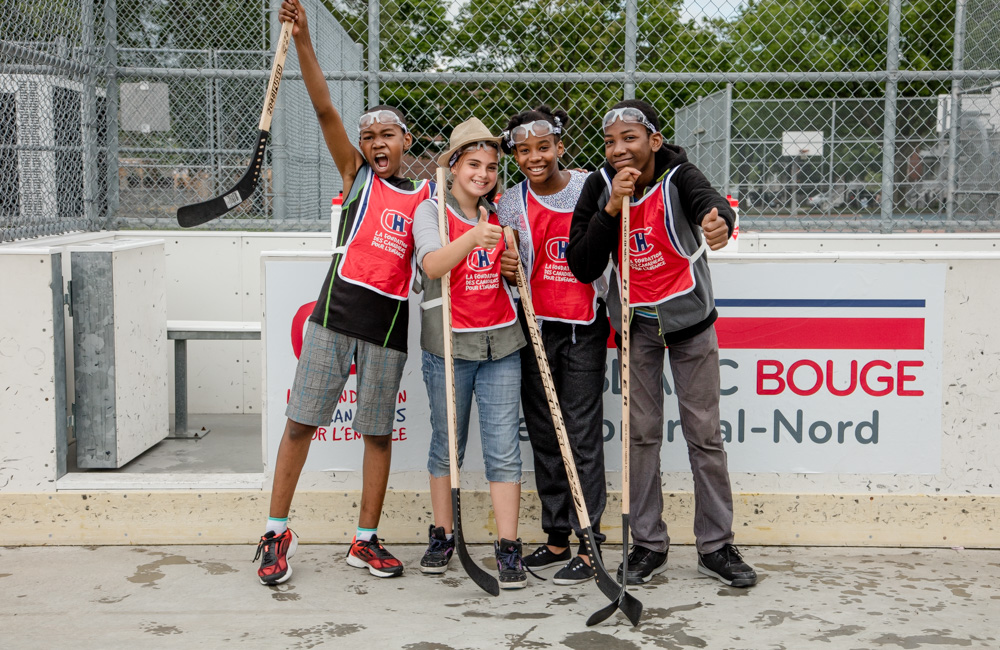 The Foundation is proud to have helped children across Quebec get involved in physical activity through donations of over $2.5 million for the 2016-17 season. In addition to the $1.4 million which made the construction of its eighth BLEU BLANC BOUGE outdoor rink possible this winter at Alfred-Élie-Dufresne Park in Sherbrooke, the Foundation granted close to $1.1 million in donations to 60 charitable organizations working with underprivileged youth across Quebec.
Globally, these programs supported by the Foundation will enable more than 31,000 children to adopt physical activity as a tool for a healthy lifestyle.
Thanks to our partners
These community investments are made possible thanks to the generosity of the Foundation's partners and donors as well as Montreal Canadiens fans, who generously supported various fundraising initiatives during the 2016-17 season. The Foundation particularly wishes to recognize the continuous and generous support of Desjardins Securities, who announced last April a major gift of $612,244, bringing its total company and employee contributions to the Foundation to more than $5 million over the last 15 years.
The Foundation also wishes to acknowledge the significant support of its other first-rate partners, Canadian Tire and the Jumpstart Foundation, Rio Tinto, and Ford Canada, and is grateful to each of them for their faithful commitment to the cause of the children we help.
Organizations supported this season :
Action Jeunesse de l'Ouest de l'ile (AJOI)
Ali Nestor Charles et les princes de la rue
Association de Triathlon Québec
Association des personnes handicapées Clair-Soleil
Association La Croisée
Association les Chemins du soleil
Association sportive des sourds du Québec
Atelier 850
Baseball Québec
Camp M.L. Clarac
Carrefour communautaire de Rosemont L'Entre-Gens
Carrefour communautaire St-Paul
Carrefour des enfants St-Malo
Carrefour du partage
Carrefour populaire de St-Michel
Centre de pédiatrie sociale de Lévis
Centre des jeunes St-Sulpice/ Entre-Maison Ahuntsic
Centre Roland-Bertrand
Champions pour la vie
Comité de vie de Quartier Duff-Court
Fédération GymnO du Québec
Fondation À pas de géant
Fondation evenko
Fondation de la Pointe-de-l'Ile (École Ste-Germaine-Cousin)
Fondation des aveugles du Québec
Fondation des Samares École secondaire Barthélemy-Joliette
Fondation du Centre Jeunesse de Montréal
Fondation Optimiste des enfants canadiens/ Centre jeunesse Chaudière Appalaches
GymnO Laurentides
Hockey Canada
Hockey Québec
JP Foundation
La Croisée de Longueuil
La Tablée des chefs
Les Fourchettes de l'espoir
Loge les amis de la Fondation
Maison des familles de Mercier-Est
Maison des familles de Rimouski-Neigette
Maison des familles de St-Laurent
Maison des jeunes de LaSalle
Maison des jeunes de Mascouche
Maison des jeunes de Tracy
Maison des jeunes du Bas-Saguenay
Maison des jeunes La Relève
Maison des jeunes Les Mayais
Maison des jeunes L'Escampette
Maison des jeunes L'Hote Maison
Maison des jeunes Place Jeunesse Berthier
Mon Resto St-Michel
Motivaction Jeunesse
Mouvement d'entraide des Cantons-Unis
Patro Roc-Amadour
Point jeunesse du Granit
Programme Au match les amis!
Service des loisirs St-Jacques de Montréal
Ski de fond Québec
Société Ressources loisirs de Pointe-aux-Trembles
Trevor Williams Kids Foundation
Trophée Jean-Béliveau
YWCA Québec