Back to news
Events
16 January 2018
Opening of our 10th BLEU BLANC BOUGE Rink in Trois-Rivières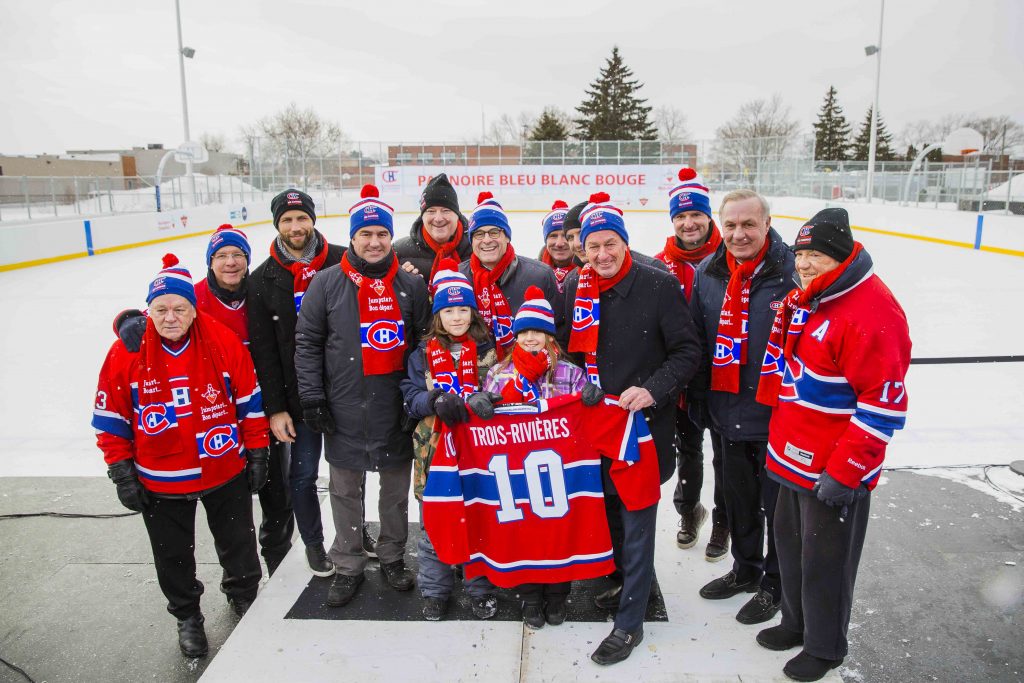 The Montreal Canadiens Children's Foundation unveiled its tenth outdoor multipurpose and refrigerated rink today at Park Cardinal-Roy in Trois-Rivières as part of the BLEU BLANC BOUGE program presented by Canadian Tire Jumpstart Charities (Jumpstart). To mark the official opening, Canadiens Alumni who grew up in the region or played hockey in the area were on hand to skate alongside kids from Trois-Rivières' Carmel district.
"This tenth BLEU BLANC BOUGE community rink, the fourth one to be built outside of Montreal, is significant for the Foundation as well as for the citizens of the region, because it represents our first implementation of this type of quality multipurpose infrastructure in Mauricie. In addition, we are very proud that the skaters' pavilion was named in honour of one of our former Canadiens players, Steve Bégin, who grew up and first laced up his skates in this underprivileged neighborhood of Trois-Rivières. We are convinced that he will inspire many kids from Trois-Rivières to adopt a better healthy lifestyle by discovering the many different sports that can be practiced on this new playground throughout the year," said Canadiens Owner, President and CEO Geoff Molson.
Canadian Tire Jumpstart Charities was named presenting sponsor of the BLEU BLANC BOUGE program at the start of the 2014-15 NHL season. Through its annual contribution of $230,000, Jumpstart joins the Montreal Canadiens Children's Foundation's efforts in offering opportunities so kids in less privileged areas can enjoy the benefits of sports and physical activity.
"At Jumpstart, we understand the profound impact sport has on communities: it brings people together and helps build strong neighbourhoods," said Scott Fraser, President of Canadian Tire Jumpstart Charities. "We are proud to support the Montreal Canadiens Children's Foundation and its BLEU BLANC BOUGE program create more opportunities for kids to get on the ice and have the chance to play, learn, and above all, have fun."
"It gives me great pleasure and immense pride to be here today inaugurating the Montreal Canadiens Children's Foundation 10th BLEU BLANC BOUGE rink on behalf of the city of Trois-Rivières. Thanks to this initiative, many young people will be able to enjoy this unique equipment, thereby supporting a healthy and active lifestyle. Located centrally in the city and in a densely populated area, this new infrastructure will benefit several community organizations located nearby, increasing the quality of life of our citizens," said Trois-Rivières Mayor, Yves Lévesque.
Trois-Rivières distinguished itself by its multi-sector groups that are working on the issues surrounding the development of a healthy lifestyle among young people. The BLEU BLANC BOUGE rink project fits naturally into the city's physical activity, sport and outdoor activities policy. Trois-Rivières also has an important number of underprivileged children and schools in need as well as an imperative need for quality outdoor sports facilities.
The initiative is part of BLEU BLANC BOUGE, the Foundation's flagship project, with a total of ten ice rinks built to this day. The outdoor multipurpose and refrigerated community rinks are located in less privileged neighbourhoods: six in the Montreal area, one in Longueuil, one in Laval, another one in Sherbrooke, as well as this new one in Trois-Rivières. Committed to providing high quality infrastructure, the Foundation works closely with a vast array of local entrepreneurs and experts in various fields, such as Cimco Refrigeration, a Montreal firm which specializes in process cooling and recreational refrigeration.
All ten community rinks are vibrant gathering areas for sports and physical activity that provide youth from these backgrounds a unique opportunity to discover a healthy and physically active lifestyle. To ensure the success of this program, the Foundation formed a dynamic partnership with Québec en Forme, sharing the ultimate goal of improving the health of children living in underprivileged areas. As an organization promoting the well-being of children, Québec en Forme works closely with the Foundation in selecting community programs and districts to implement the program at the facilities and assess the program's impact.
"Québec en Forme wishes to highlight this tenth initiative of the Montreal Canadiens Children's Foundation. The arrival of a new rink will allow young people to be active every day. I am proud that our expertise, as well as our strong and committed network of partners, can be used to facilitate such fabulous projects," added Québec en Forme's General Manager Eric Lamothe.
Representatives from Desjardins Securities were also present at the inauguration of this tenth rink. As a first-rate partner of the Montreal Canadiens Children's Foundation since 2001, Desjardins Securities has been providing financial support for children in need for many years and has donated more than $ 6 million to the Foundation in order to help achieve its mission and goals. "For 16 years, Desjardins Securities has been pleased to partner with the Montreal Canadiens Children's Foundation to contribute to the various initiatives implemented for youth in need across the province," said Vincent Hogue, Senior Vice-President and Head of Private Client Services. "The BLEU BLANC BOUGE ice rink in Trois-Rivières is one of the achievements to which we are very proud to be associated."