Back to news
News
30 May 2016
Over $2.5 Million to Help Children Across Quebec to Be More Active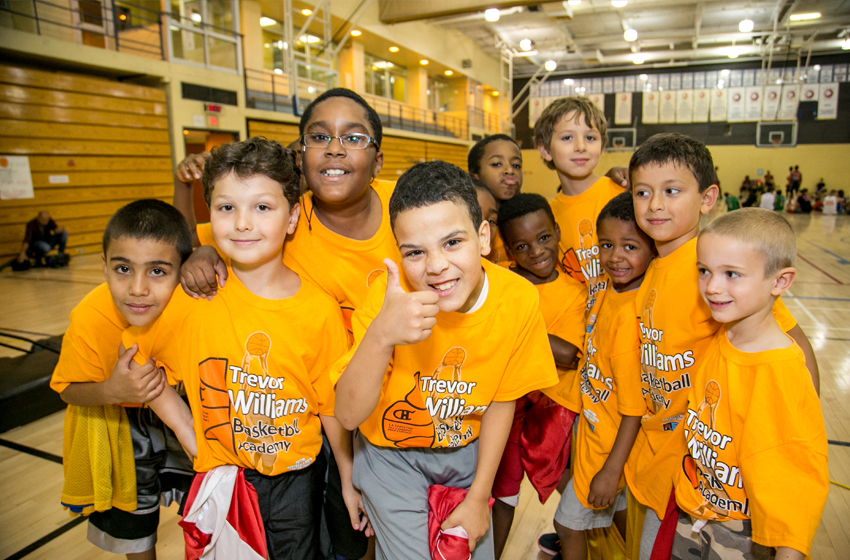 The Montreal Canadiens Children's Foundation is proud to help children across Quebec to be more active through donations of more than $2.5 million for the 2015-2016 season. In addition to the $1.4 million which enabled the construction of its seventh BLEU BLANC BOUGE outdoor rink this winter at Émile Park in Laval, the Foundation granted $1.1 million in donations to more than 60 charitable organizations working with disadvantaged youth across Quebec.
In total, these programs supported by the Foundation will enable more than 31,000 children to adopt physical activity as a tool for healthy lifestyle.
Aiming to offer children in need the same benefits as other kids their age, by giving them the opportunity to experience the benefits of a healthy lifestyle through regular participation in sports and recreational activities, the Foundation supports each year different organizations that demonstrate, through their programs, a strong will to have a significant impact on the living habits of disadvantaged children. While half of the organizations that received a grant from the Foundation this year are located in Montreal, the other half represents 11 of the 16 administrative regions of Quebec.
Thanks to our partners
These community investments are made possible thanks to the generosity of the Foundation's partners and donors as well as Montreal Canadiens fans who generously supported various fundraising initiatives during the 2015-16 season. The Foundation particularly wishes to recognize the continuous and generous support of Desjardins Securities who announced last April a major gift of $508,000, which brings its total company and employee donation amount for the Foundation to more than $4.5 million over the last 14 years.
The Foundation also wishes to acknowledge the significant support of its other first-rate partners Canadian Tire and the Jumpstart Foundation, Rio Tinto and Ford Canada, and is grateful for their faithful commitments to the cause of the children we help.
Organizations supported for the 2015-2016 season
MONTRÉAL
Acadé-Kicks
Action Jeunesse de l'Ouest de l'Ile (AJOI)
Association du triathlon du Québec
Association pour le développement jeunesse de Loyola
Autisme Proset
Baseball Québec
Camp Cosmos
Centre communautaire Bon Courage
Centre communautaire de loisirs Ste-Catherine d'Alexandrie
Centre de Loisirs communautaire Lajeunesse
Centre des jeunes St-Sulpice
Centre Mariebourg – Institut Pacifique
Commission scolaire Marguerite-Bourgeoys
Croix-Rouge Canadienne
Cuisines et vie collectives St-Roch
Dawson Community Centre
École Petit Collège-Commission scolaire Marguerite-Bourgeoys
Fondation du cancer des Cèdres – Fonds Sarah Cook
Fondation du Centre jeunesse de Montréal
Fondation du CSSS Jeanne Mance
Fondation du Dr. Julien
Fondation evenko
Fondation Père Sablon
Fondation de l'Hôpital de Montréal pour enfants
Hôpital de Montréal pour enfants – Fonds Marc Normandeau
La Maison à petits pas
La parentèle de Laval
La Place des enfants
La Tablée des chefs
Maison des jeunes L'Escampette
Mon Resto St-Michel
Oasis des Enfants de Rosemont
Perspectives Jeunesse
Service des loisirs Angus-Bourbonnière
Société de la sclérose latérale amyotrophique du Québec (SLA)
Trevor William Kids Foundation
Centre communautaire Tyndale St-Georges
Welcome Hall Mission
ABITIBI-TÉMISCAMINGUE
Mobilisation espoir jeunesse
BAS-ST-LAURENT
Camp Richelieu Vive la Joie
Maison des jeunes du Bic
CENTRE-DU-QUÉBEC
Association Emmanuel
Centre Normand-Léveillé
Maison des jeunes La Traversée 12-18
CHAUDIÈRE-APPALACHES
Centre de pédiatrie sociale de Lévis
Maison de la famille Grand Ourse
Regroupement des jeunes de Lotbinière
GASPÉSIE-ÎLES-DE-LA-MADELEINE
Fondation Santé de l'archipel/Regroupement Loisir des Iles
LANAUDIÈRE
Centre d'amitié autochtone Lanaudière
Fondation Camp De-LaSalle
Maison de parents de la Matawinie
Maison des jeunes de l'Épiphanie
LAURENTIDES
Maison de la famille du Nord
Univers Jeunesse Argenteuil
OUTAOUAIS
Les enfants de l'Espoir de Hull
Service animation Jeunesse de l'Outaouais
MONTÉRÉGIE
La Croisée de Longueuil
Une affaire de famille
CAPITALE-NATIONALE
Centre Durocher
Fondation des camps Odyssée
Fondation du Centre jeunesse de Québec
Fondation Petits bonheurs d'école
Joujouthèque Basse-Ville
Patro Charlesbourg
Patro Roc-Amadour
SAGUENAY-LAC-SAINT-JEAN
Maison des jeunes du Bas-Saguenay